Finding a Nanny Vacancy in the UK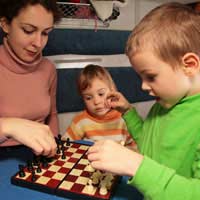 Nannies are in high demand in the United Kingdom and qualified nannies should have no trouble locating a wealth of positions - if they know where to look. Online notice boards, local community papers and childcare recruitment agencies are all wonderful places for nannies to find advertisements for vacancies, and posting an ad of their own may be something nannies should consider if they are seeking a position immediately.
Online Notice Boards
Some parents choose to advertise their need for a nanny on free online notice boards such as Gumtree and Craigslist. This method means that they can quickly and easily gather the CVs of many nannies and don't need to pay exorbitant fees for posting their ads. Nannies who choose to apply for such positions should be sure to follow the instructions in the ad, for example sending their CV in the body of an email instead of an attachment or only calling the listed phone number between the times advertised. Nannies should also take suitable precautions when meeting parents contacted via the Internet, for example interviewing in a public place if at all possible.
Local Community Papers
Much like their online counterparts, the community advertisements section of a local paper can be a wonderful place for nannies to look for work. One added advantage is that the ads are practically guaranteed to be from a limited geographical area so nannies looking to work in a particular town or area of a city are more likely to find employers through these papers. Again, nannies should follow the printed instructions regarding sending in their applications and use their common sense when it comes to meeting potential employers.
Childcare Recruitment Agencies
Recruitment agencies exist to serve many professions and nannies are lucky enough to be able to submit their CV to agencies specifically dedicated to nannies as well as broader agencies dedicated to all childcare professionals. Nannies who choose to use these agencies will enjoy the benefit that there is usually no cost to them and they are introduced to an existing pool of interested employers. However, nannies may be asked to take agency run courses such as first aid certification classes, and they are only able to select positions from those advertised with the specific agencies. Each nanny will need to decide for him or herself if they are interested in working with a recruitment agency while looking for work.
Posting an Ad
Some nannies, particularly those looking for quick and/or local work, prefer to post their own ads rather than wade through the vacancies advertised at various locations. If a nanny chooses to advertise their own services they should include an exact description of the type of work they are looking for, the hours they are willing to work and expected rates of pay. Including clear contact information such as an email address or mobile phone number will help potential clients get in touch, but nannies should never reveal personal information such as their home address.
Nannies are in luck when it comes to looking for a vacancy: there are many potential outlets from which they can find work. Online notice boards, community newspapers and childcare recruitment agencies are just a few of the options that nannies can take advantage of while looking for a new positions. Posting an ad themselves is also an alternative that nannies seeking work could explore.
You might also like...
I am 48 years old, married non-smoker and kind hearted Sri Lankan woman. I living West London south harroow. I am seeking a job as Baby sitter,Nanny or Housekeeper.[live out position] I have my own three children and I've look after my sister's two children as well while in my country.[Now my childrens 26,24,18 years old] I am very hard working motivated woman with positive attitudes. .I have very good experience in look after kids.more then 25 years.I had 9 years UK nanny experience,New born to 6 years old. I haven"t valid driving licence but able to come work on time.I have a valid visa.I have currunt CRB and Paediatric First Aid certificate.I can do very good cooking,Ironing,and cleaning. I am currently work From 2012 Jun to now looking after 14 month old baby girl since she was 6 month old.this family living Fulham just thay move to New Becanaham .that's why i am looking for new job. I have excellent references.I can start ASAP. References; My current employer; Namratha Muralidaran (2012 Jun-2013 Jan) 6month to 15 m9nth ( Family moved Fulham to New Becanham) 07577897106 GittaWolfsteiner (2008 Jan-2012May) New born baby girl she 5years old she start full time school 79 Finlay Street London SW6 6HF 02077315951 2006 Sep to 2007 Dec (Family went back to Nevyork) Deepti Agrawl, 200, Riverside Blrd Apt 35 A, Newyork NY 10069 . Tel: 212-579-8020 My UK First employer;2005 July to2006 Dec(family move Greenford to Highwycombe) ChamaraArunodaWanniarachchi; Finance Application Consultant, IFS UK Ltd, IFS House, 728, London Road , Highwycombe. Bucks HP11 1HE. TEL:07763625367. My part tiem employer Anibal Biggadike Ingalthot street Fulham 07770876140 please contact me 07533089288
Hello, I would like to be a nanny, stay-in is ok. I am based here in the Philippines. Please email me soon... Thank you and God Bless
Prima
- 13-May-11 @ 9:11 AM