Interview With a Nanny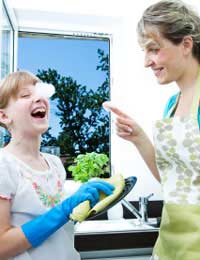 ABritishNanny interviewed Suzanne Hastings who works with the Watt family in Surrey and has been working in childcare since leaving school. Here's what she told us about her experiences as a nanny:
ABN – Welcome Suzanne, first of all, can you tell us a bit about yourself?
Suzanne: Well, I'm older than a lot of nannies these days, as I'm 42 and have been working in childcare since leaving school. My experience is that it's quite unusual for someone of my age to still be a nanny, as many girls give up when they meet someone and wish to have their own family, but I've been lucky enough to be able to work the two together. It's like having two sets of children! I was brought up in Hampshire and currently live near Guildford in Surrey.
ABN – Tell us about your route to being a nanny?
Suzanne: Well, it started when I was really quite young. I was never very academic and was always more interested in playing with dolls and then as I got a bit older, children younger than me, even into my secondary school years. Then one of the teachers at my high school suggested I do a placement with a nursery as part of my sociology course. I really loved it and received the best assessment I'd ever had at school. It then seemed natural to find out more about vocational courses and I eventually studied at a college of further education and did the equivalent of a full diploma in childcare and education and went on from there.
ABN – Tell us what a typical day is like for you
Suzanne: Well, I look after two older, school-aged children who I've been with now for nearly five years. I worked full time until the youngest started school and have gradually been reducing my hours as they've got older, so that now I just come for two days per week. It was more hectic during the day when they were little, but now the busiest time for me is actually after they come back from school. I will arrive for work at 7.30am and so the first thing is to get the children eating breakfast, making their packed lunches, making sure all homework and music practises have been done and then delivering them to school.
I then come home and clear breakfast, whiz a vacuum around the place and start sorting out the children's laundry. If I have any of their activities or school letters to sort out, I do this in conjunction with Mum. With many nanny jobs, there are things that nanny's do and don't do, but with me, because I've kind of 'grown up' with the family, things have become a lot more flexible and whatever Mum hasn't had time to organise, I'll pick up on. The rest of the day is spent tidying and sorting out the children's rooms, ironing and getting dinner prepared, and then at 3pm I head off to pick the youngest up from school. Both children do various after-school activities during the week, so my time between 4.00pm and 6.00pm is spent taking and collecting from music lessons, swimming and karate! After this, I give the kids their dinner and make sure the little one is in her pyjamas before Mum gets back by 7.30pm, when I head home.
ABN – So it's a full 12-hour day?
Suzanne: Yes, a 10-12 hour day can be quite normal for nannies and very tiring if you're not used to it, but again, because I only work twice a week now for the family, its not bad and I look forward to going to work!. The only difficulty can sometimes be juggling childcare for my own children – but at the moment my husband is able to help with that.
ABN – Do you enjoy your job?
Suzanne: Like all jobs, there are ups and downs; but by and large, I have never lost that first sense of enjoyment and achievement I experienced from working with children on that school course all those years ago – so I feel very lucky really. Also, having been so long with one particular family, I feel great loyalty and affection towards them which helps enormously.
ABN – What is the difference, being a more 'mature' nanny?
Suzanne: Definitely experience! This job is all about continually learning. Learning how to engage with the children you're looking after, how to deal with different age-groups as they grow up, how to build trust and friendship and also maintain a good working relationship with your employers. I think I have a lot more patience and understanding now and don't get angry nearly as much.
Also, being a parent myself now, gives me a whole new insight into the job, which many nannies just don't have. I think older nannies can sometimes replace the spinster aunts of the extended family that might have been around in times gone by, and that children can gain from another close relationship like this. But it's quite rare that families keep nannies much beyond primary school years and I know that I myself feel a growing need now to focus more on my children. I'm not finishing yet, but maybe in the next couple of years I can see a natural progression as my employer's children need me less and my own need me more: this would then be my perfect 'end' to my 'career' nannying days.
You might also like...