Live-in Vs Live-out Nanny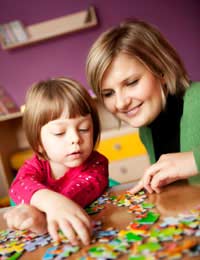 Before selecting a nanny for your child or children, it is important to work out your precise needs. This will help determine before you begin the interview process, what kind of girl you are looking for and whether you would like a live-out or a live-in nanny.
Questions to Ask:
The kinds of questions to ask are the following:
For how many hours work is the nanny needed per week, and when should those hours be?
How would it feel to have the nanny living as part of the family?
Will the nanny only look after the children, or ideally do some housework and cooking too?
Will there be a cleaner in addition to the nanny, or will this be done by the parents?
How much will the nanny be paid per week, including tax?
What is a Live-Out Nanny?
A 'live-out' nanny is a nanny who has her own home and arrives at the family house each morning, as her place of work. She will spend all day looking after the children and finish work at a pre-arranged, regular time when she returns home. A live-out nanny will normally work a 10-hour day, although this can vary according to contractual arrangements. She may also be willing to do one late night per week, or baby-sit from time to time – but this would be strictly subject to extra pay or time in lieu.
Advantages of a Live-Out Nanny
The main advantage of a live-out nanny is that Mum has the house, the children and her personal space to herself once home and the nanny has left. The live-out arrangement also allows the relationship between nanny and Mum to be friendly but kept on a professional level with just a brief hand-over at the start and finish of each day and any necessary up-dates in-between. Both nanny and family have a break from each other, and there is less 'cross-over' between Mum and the nanny taking care of the children.
Disadvantages of a Live-Out Nanny
The main disadvantage of having a live-out nanny is the lack of flexibility the arrangement offers. For mothers who need to be on an early train from time to time, or who might need to be regularly late home from work, there will be added pressure to arrive back to relieve the nanny. This can sometimes build tension on both sides of the relationship. Similarly, for most professional live-out nannies, cleaning or cooking for the family is outside their remit of specifically tending to the children. This can sometimes feel tricky to the mother who thinks if she were there; the jobs would get done alongside the child-care.
What is a Live-In nanny?
A live-in nanny is someone who lives in your home full time, with your family. They are provided with their own room, sometimes their own bathroom, kitchenette and/or sitting area and they are also provided with three meals a day as a member of the household. A nanny, who lives in, will be paid less than one who lives-out because of the board and lodging she receives as part of the job. Most live-in nannies tend to work more flexible hours to suit the work patterns of the family, may baby-sit more often during the weekends or evenings and will quite often be assigned some housework and cooking as part of their general duties, as well as looking after the children.
Advantages of a Live-In Nanny
The advantages of hiring a live-in nanny are first and foremost the flexibility gained. For parents who work shifts or who have irregular hours, the arrangement is perfect, as finding a live-out nanny who can arrive at 5.00am or stay until midnight would be a challenge! Having some-one living with you also allows for those times when you have a last-minute invitation to go somewhere or when you are sick.
Disadvantages of a Live-In Nanny
By the same dint of a nanny being there all the time, the relationship formed tends to be very different from that of a live-out nanny. The nanny will see the family at its best – but also at its worst – when they are arguing after a bad day, in a threadbare dressing gown or a favourite pair of old tracksuit bottoms and will also be there when Mum just needs some space. For this reason, the best arrangements are when a family has a sociably and accepting character and/or is able to give the nanny their own large bedroom slightly separate from the main family rooms.
Whichever type of nanny is selected, there is someone out there for every type of family; it's just a case of finding them!
You might also like...
Hi I am looking for a british nani to live in or out I live in Putney SW15 6XP
Mona
- 2-Oct-15 @ 9:01 AM