Advice on Nannies...from Mums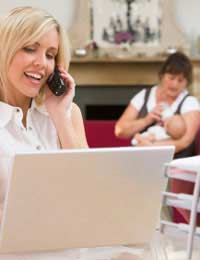 Hiring your first nanny, can be a daunting prospect for the whole family. Will my child be safe? Will the nanny fit in? How do I treat my nanny as her employer when she is also looking after my children? There are many questions such as these running round most mothers' heads.
Professional advice from an expert is invaluable, but just as important is listening to personal experience from those who have already been through it. So A British Nanny has gathered together comments from Mums who've been there, to bring you the best of their nanny tips and hints.
Follow up References
Always make sure you have not only ready original copies of qualifications but follow up in person all references. And try to make sure you speak to the family they have worked for, as I once had a girl who just got her friends and family to pretend they were her previous employers.
Don't treat her like your Best Friend
Be friendly, of course – but don't fall into the trap of treating your nanny like your best friend. Over time, you will lose her respect and there will come a time when you regret what you have divulged over a cup of tea after work. It will also become harder to put your foot down if standards fall short of what you expect for your children. Instead, keep it firm, friendly and flexible.
Keep an Eye on Her
When your nanny first starts with you, ask a friend to or neighbour to pop round unexpectedly to check the children are having fun. Also, don't feel beyond asking someone (even the teacher) to keep an eye out at nursery, school or in the park to check that the children are being played with and treated really well. It might sound a bit untrustworthy, but it is better that you are alerted quickly if your nanny isn't doing her job properly as soon as your back is turned, and good friends will have your - and more importantly - the children's interests at heart.
Reward Good Work
I've had the good, the bad, and the downright awful in my time and I'm telling you, if you are lucky enough to find a good nanny – then do all you can to keep her! Reward excellent work, try not to ask her to do extra hours too often, never ask her to do general housework and don't begrudge benefits in kind. It's nanny wars out there and great nannies are like gold-dust. I've even heard of some pushy types who are not below nanny 'poaching'; they will try to take someone else's good nanny by offering more money.
Communicate with your Nanny
In my experience, little things go a long way to helping your nanny stay and feel valued. It's taken me a while to learn, but good communication is key – so that you both have a consistent approach working with your child(ren), based on similar expectations and life values. It starts right from the beginning with the interview, when you should establish if your views on punishment, play and eating for instance are in line with each other. After that, it's a case of remembering to simply to say thank-you each day and giving her a gift on her birthday – amazing how resentment can quickly build without you realising it, if these things are forgotten.
Don't Resent your Nanny
My best advice I think would be: Don't resent your nanny. It can feel like the hardest thing in the world to hand your little one over to someone else's care while you go off to work – especially if you don't have a choice – but after all, if you are jealous or resentful, ultimately you and your child will suffer – not the nanny, who will leave for a more appreciative family. On the other hand, if you can think of your nanny a being your most trusted ally, then you will have the space and peace to enjoy the 'best bits' of your child's time knowing that no-one can ever truly take the place of Mum!
You might also like...