The Difference Between an Au Pair and a Nanny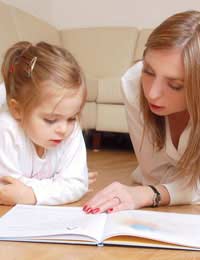 To some, the difference between an au pair and a nanny is obvious, whilst for others, the two terms are almost interchangeable. The confusion has largely arisen due to an influx of foreign workers who, to all intents and purposes, perform the role of a nanny and yet are really au pairs who have had their working remit expanded to earn extra money.
Trained Vs Untrained
So what, then, is the difference? The most fundamental issue is that a nanny is a trained professional, whereas an au pair is an untrained 'volunteer' with no formal childcare qualifications.
A British nanny will have attended college, completed supervised placements or internships, gained at least preliminary experience and will have attained relevant qualifications in childcare and education. Some nannies will have the equivalent of a degree whilst others will have completed more vocational courses – but all will have been trained. Au Pairs, on the other hand, will be presumed not to have had any specific training or expertise in looking after children, may not have had any experience of having done so, and at most may have only babysat on occasion for friends and family.
Career Vs Gap Year
For nannies, their job is a chosen profession in which they can practise their learned skills and gain valuable experience with each role to further their career. Nannies may add to their skills base by attending further courses relating to the care, safety and development of children and hope to increase their earnings as they progress.
Au Pairs are young girls from abroad, aged specifically between 17 and 27, and averaging 20 years old, who come to the UK to experience the British way of life. Their primary goal is to learn English and in exchange for full board with a family and a little bit of weekly pocket money, they help around the house and with babysitting whilst attending language classes.
Salary Vs Pocket Money
A British nanny works for a family as an employee and as such has a contract detailing her terms of employment. The family are her employers and are legally obliged to pay their nanny an acceptable wage in accordance with employment regulation and are responsible for paying her tax and National Insurance. Nanny positions, then, are fully subject to employment law. Nannies expect to be earning between £18,000 and £20,000 per year for a live-in position.
Au Pairs come to stay as guests and sponsoring families act as their 'host'. Guidance as to their treatment is outlined by the Home Office who stipulate that they should be regarded as an equal member of the family and not as an employee. They may have come to the UK as part of the Youth Mobility Scheme or as a temporary worker and as long as they fulfil UK Border Agency requirements, they are paid a weekly amount of cash at the end of each working week, averaging around £75.
Full-time Vs Part-Time
Most nannies work full-time or for two to three full days per week. Their hours tend to be longer than standard jobs with many working regular 10-12 hour days. This is in contrast to au pairs, who work a standard 25 hours per week, and who are free the rest of the time to attend language classes, meet friends or explore the area. Some au pairs will work more hours, but these tend to be called an 'au pair plus' or a Mother's Help.
Family Vs Children
As explained above, nannies are trained child carers and their main focus is the well-being of the children they are looking after. Although some nannies are willing to attend to family pets, and pass a vacuum around the home, it is important to understand that their sole remit is that of the children and they are not paid for cleaning, or doing errands for the family as a whole. Au Pairs, however, act as an extra pair of hands for families and part of their role is to undertake light cleaning duties and sometimes simple tasks as well as supervising older children when the parents are busy.
In summary, a British nanny is a trained, qualified, professional employee, whereas an au pair is a young, unqualified, untrained, foreign girl who lives with a family as a 'big sister' to the children and an older responsible 'daughter' to a host family in order to help out around the home.
You might also like...
could you get more info on the difference between nannies and au pairs please would be useful for my gcse thanks
katie
- 9-Sep-16 @ 2:19 PM