What to Look For in a Nanny Contract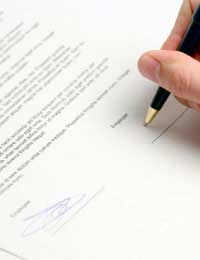 When you accept a nanny position, you should expect to then be presented with a contract of employment. If not, then you are within your rights to ask your employer for one before you start work.
What is a Nanny Contract?
A nanny contract is a formal and legally-binding agreement between family and nanny - or employer and employee - setting down the terms and conditions of the employment. The contract should be agreed to and signed by both parties and will then act as a point of reference as to what is expected. A copy of the contract is then kept by both.
Personal Details
The first thing on the contract should be the name and address of both the employer (the family, unless the nanny is self-employed) and employee (the nanny). There should also be written the place of work (usually, the family's home), the job title of the position for which the contract is being written (Children's Nanny), and the date from which the employment will commence.
Hours
Next should be detailed the exact hours of work. These should include the time the nanny starts and finishes work and as much detail as possible here will avoid any confusion or misunderstanding at a later date – so that if the family expect a nanny to arrive at the house by 07.45 and start work by 08.00, this must be clear, rather than stating she should start work at 8am. It should also be stipulated when and how long any breaks should be taken and if they are to be paid breaks.
Similarly, any proposed additional hours should be noted here, along with how often extra hours may be needed, how much notice will be given and at what rate of pay they will be paid.
Salary
Arguably, the most important inclusion on a nanny contract will be details of the salary being offered. If there is any disagreement of this point before the job begins, it must be raised before the contract is signed and both parties will need to re-negotiate until an amicable agreement is reached.
It should be clear whether the salary is being quoted as a gross or net amount, whether it is an hourly, daily, weekly, monthly, or annual figure, whether it will be paid in advance or arrears and also when it will be paid. It is also useful to have an indication of whether the wage will be paid in cash, by cheque, direct debit, or standing order and if tax will be taken out at source (should the nanny not be self employed).
Sick Leave
All employees are entitled to sick leave but it must be made clear in the contract, what this entails, how much the nanny will be paid whilst unable to work, and what happens if unavailable to work for an extended period of time.
Maternity Leave
Similarly, should the nanny become pregnant, the contract of employment should set out the terms of maternity leave the nanny is entitled to, along with any benefits and changes to the job once the baby is born.
Holidays
How much paid annual leave the nanny is entitled to must be stated in any nanny contract and whether any additional unpaid leave may also be taken if agreed. It is also tremendously useful before work commences, to establish whether, if a family request the nanny to accompany them on their family holiday for instance, she has any leeway to refuse, whether her rates of pay and hours will remain the same whilst on holiday and whether any free time on vacation with the family would constitute part of her own annual leave. Another common grey area is that of Public Holidays, so once again, make sure it is noted in the contract if the nanny is expected to work Bank Holidays or if they will be given as statutory paid/unpaid leave.
Benefits in Kind
The contract should include anything additional that the family are offering the nanny which may be seen as a benefit in kind. These might include a car for personal use, a mobile phone, a gym membership, a travel card, and possibly an apartment/room if they are to live in.
Pension Arrangements
Even if no pension arrangements are offered by the family, it must be stipulated in the nanny contract to that effect. If they are extended, then all details should be included.
Disciplinary Procedure
If there is any disagreement between family and nanny, there must be carried out a disciplinary procedure which is fair both to the family and to the nanny. If the procedures aren't followed, any future unlawful dismissal could be looked upon unfavourably by a court of law.
Period of Notice
Finally, the contract should state what the notice period must be if either the nanny wishes to leave or the family wish to terminate her employment. It should be made clear if the notice period must be worked and when any final payment will be given.
A nanny contract may be a simple side of A4 or run to many pages but do make sure all the above points are included, and that you understand it. Remember, if in doubt – ask!
You might also like...
Nanny di - Your Question:
Hi, I have been a nanny for many years now. I am a nursery nurse with a foundation degree in early years and love being a nanny. However I have often been taken for granted, treat like a slave and pushed to the limits on occasions. In this employment it has been no different. Over Christmas the little boy had a severe cough and cold and coughed all day long a bit like whooping cough. Mum had a chest infection and they have moved to a cold damp house with black mould on the windows. Renovation work to start in summer! I then spent the entire Christmas off with the same and needed antibiotics and slept on my sofa for a week because of the cough. 4 days unpaid sick pay was taken off my wages. Then last week the second child had the same and was off all week from school. Luckily I haven't succumbed this time. However I did the housework for them as well as having the little one at home. I feel I shouldn't have my pay docked in this instance. What do you think.? Diane
---
Our Response:
Your employer should have paid you statutory sick pay if you fulfilled the following criteria:
You were ill for at least 4 days in a row (including non-working days)
Earn at least £112 (before tax) per week
ABritishNanny
- 3-Feb-16 @ 11:07 AM
Hi, I have been a nanny for many years now. I am a nursery nurse with a foundation degree in early years and love being a nanny. However I have often been taken for granted, treat like a slave and pushed to the limits on occasions. In this employment it has been no different.Over Christmas the little boy had a severe cough and cold and coughed all day long a bit like whooping cough. Mum had a chest infection and they have moved to a cold damp house with black mould on the windows. Renovation work to start in summer! I then spent the entire Christmas off with the same and needed antibiotics and slept on my sofa for a week because of the cough. 4 days unpaid sick pay was taken off my wages. Then last week the second child had the same and was off all week from school. Luckily I haven't succumbed this time.However I did the housework for them as well as having the little one at home. I feel I shouldn't have my pay docked in this instance. What do you think.? Diane
Nanny di
- 1-Feb-16 @ 9:11 PM