When a British Nanny is Not British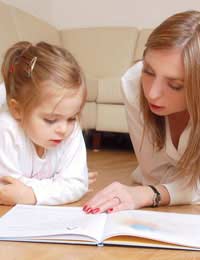 When a family approaches a nanny agency or advertises direct to engage a British nanny, they may be surprised to discover non-British applicants responding. This is because there is an increasing trend for girls to travel to the UK with the express intention of working as a nanny for a family in the UK. So should these applicants be considered?
Which Nationalities Apply to be Nannies in the UK?
More and more girls from Eastern Europe now apply for full nanny positions in the UK with most coming from the Czech and Slovak Republics, Romania, Hungary, Poland and Bulgaria for economic reasons. Out of these, Romanians and Bulgarians, as Accession EU nationals, must comply with certain legal criteria and unless they have what is known as a 'Blue Card', are not supposed to work for more than about 25 hours per week and earn more than approximately £80 per week. Other commonly received applications are from Filipinos looking for work abroad to send money home to their families. Of those coming for a cultural work experience, Australian and New Zealanders sometimes pick up nanny work as a way of funding their travels around Europe, whilst other Europeans such as from Spain and Germany may be interested in broadening their cultural experience.
Employing a non-British Nanny
When employing a person from overseas to look after children, it is imperative that the family checks their background credentials. Besides the usual references, police and medical checks, the family must be sure that the applicant is legally able to reside and work in the UK, that they have the correct paperwork to prove this and that they have a valid passport or Identity Card. If a family were to employ someone who was not legal, they could be prosecuted for harbouring an illegal immigrant.
International Qualifications
Some non-British nanny applicants do have formal qualifications from their own country. If they do, they should present the full documentation and certifications together with appropriate translations prior to, or at interview stage. The qualifications should be the equivalent of UK exams such as those overseen by CACHE and SSNB, relevant NVQ's, SVQ's and/or BTEC certificates. If in doubt, a reputable nanny agency should be able to provide information as to whether their qualifications are acceptable.
Teaching Backgrounds
Many applicants, who apply for British nanny jobs, may have a pedagogical background and present teacher-training as a valid qualification to look after children. Certainly, if the family have school-aged children, or if the individual has studied early learning and childcare as part of their studies, with practical placements in kindergartens, for instance, this may suffice – but the family should make sure of exactly what type of teaching they have done and how much, if any, experience they have already under their belt.
Montessori Nannies
One internationally recognised training scheme which is taught abroad as well as in the UK is the Montessori Method and nanny applicants who have this qualification will have a degree plus a year's training and be qualified to work with children of all ages up to elementary level.
Language
One of the main differences between fully British and non-British nannies is the language. It is absolutely essential that a family interview in person each nanny in whom they are interested and not solely rely on an agency to do so, because if considering a non-British girl, the family will need to ascertain if their language skills are commensurate with their needs and those of the children. If looking after a baby or very young child, it is crucial that the nanny is able to communicate clearly should there be an emergency of any type, and of course if the children are older, they will require full interactive play and participation with the nanny.
Shared Cultural Background
Another aspect the family should consider is what type of social 'history' they wish for their child. For instance, many parents remember the favourite story-books, nursery rhymes and bedtime routines they had as children and wish for their children to share in them. Nannies from a different culture, however, will have a very different cultural heritage and may well not know the traditional rhymes, songs, books and finger-games so common in Britain. For some, this may not matter, but for others, it does – so worth thinking about.
Pros and Cons of a Non-British Nanny
Nannies from outside of the UK – particularly from Eastern Europe – are usually happy to accept lower rates of pay than that of a British nanny and so can prove a very cost-effective option for the family. They may also be happy to do a wider range of household tasks, including cleaning, which is not usually within the remit of a traditional British nanny – and they are often more willing to accept a live-in position – so these are obvious 'pro's of a non-British nanny. Similarly, for a bi-lingual family, it may be a great option if they wish their children to also grow up speaking another language.
On the other hand, many of the non-British girls who apply for a nanny position in the UK have not undertaken a formal or comprehensive nanny course. Most rely on previous experience as an au pair or Mother's Help to obtain work. In addition, their background and references may be more difficult to check and their criminal record will only be relevant to their country of origin, unless they have already obtained an Enhanced CRB check whilst in the UK.
So if considering a non-British, 'British' nanny, its certainly worth bearing in mind the above points.
You might also like...