Travel Considerations of a Nanny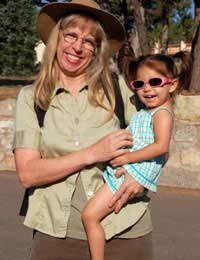 Many parents prefer for their nannies to travel with them on weekends and during school holidays. Some parents may even like a nanny to travel with the family during the school term if their children are being educated privately. Some nannies leap at this chance to see the world, while others prefer to stick to the routine established in the child's own home. Regardless of the nanny's personal preferences, if travel is a part of the job this should be explained from the start. Many travel considerations, including the nanny's hours and pay, living accommodation, travel expenses and personal holidays should also be addressed at this time.
Hours and Pay
When nannies are to travel with a family it is best to make it clear from the start what their hours and pay will be. For example, if nannies need to be on-call at night as well as work their normal daily hours then there will need to be a corresponding pay increase. If nannies are to work the same number of hours but at different times (for example, the afternoon and evening rather than morning and afternoon) then this should be discussed as well. Often the hours required of a nanny during a trip will depend upon the parents' own schedules, so expectations for each new journey should be put forth clearly before each new trip.
Living Accommodations
Nannies travelling with a family should ideally be provided with their own living quarters. Like anyone else nannies should be afforded alone time away from their employers and sharing quarters with children effectively means that they will be working all the time. If a family is renting a house or apartment then this should be no problem, and even trips requiring overnight accommodation in hotels usually means that it should be easy to get the nanny a room. Shorter trips, for example weekend getaways, and crowded quarters may mean that full rooms are running short, so if a nanny is not able to have his or her own room then this should be fully explained before travel commences.
Travel Expenses
Nannies who travel with a family should not be expected to pay for their travel expenses. Transportation and accommodation costs, as well as a "per diem" to cover food and entertainment costs (with the children, if applicable), should all be covered for the nanny by his or her employers. The one exception to this might be if a nanny has voluntarily chosen to work in a location away from his or her present home. In this case, it should be negotiated between the nanny and new employer as to who will cover the cost of the nanny's move.
Personal Holidays
It can not be said too often: nannies who travel with a family still deserve time off. Before any trip the employer should make it clear what the working expectations will be, and nannies should be sure to have their hours/days/weeks off very clearly spelled out and agreed upon so that there will be no surprises while travelling.
There are many considerations for both nannies and employers when a nanny is to travel with a family. These considerations should be fully discussed and agreed upon prior to travel so that the resulting trip will be efficient and enjoyable for everyone involved.
You might also like...