The Bonuses of Being a Nanny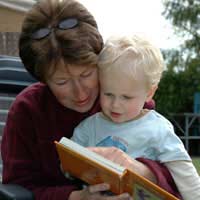 Being a nanny can be a very fulfilling occupation, one that brings with it a host of physical and emotional rewards. Unfortunately being a nanny is also a very tough job, one that requires creativity, flexibility, patience and resourcefulness almost every minute of the day. Not everyone is cut out to be a nanny, but those who might be should consider the many bonuses of being a nanny when they contemplate their career choices.
Relationships
Nannies are in the unique position of becoming an adopted member of a family. This means that not only do they form relationships with the children they look after, but also with their employers, the extended family and possibly even children and adults in the neighbourhood. For nannies who specifically choose to work abroad or in areas in which they've never lived this means they get to develop relationships with people they would most likely never have met otherwise. Nannies can also make a host of other relationships in their new communities and build lasting friendships during their time with a particular family.
Personal Satisfaction
Being a nanny brings with it an enormous sense of personal satisfaction stemming from the fact that nannies can make lasting impressions on children and families. This means that nannies make a difference in many lives and can contribute to shaping a young child's character as well as harmony within a family. This satisfaction can make it hard for nannies to leave their posts, but it also means that they are forever able to look back on a certain family and know that they made a contribution to many lives.
Standard of Living
Most live-in nannies will find that they enjoy a certain standard of living which they do not need to organise. Living with a family should mean that nannies are housed in their own rooms and have access to a family home larger than what they might live in on their own. It also means that utilities such as electricity, water, cable television and even Internet connections are already set up and do not need to be negotiated. Some nannies also find that they are lucky enough to live in a household in which other household staff means that they do not need to worry about cooking, laundry or even driving. Some nannies may also find that their employers like to have them travel with the family, meaning that they will be able to see more of the world (usually at no extra expense) than they might otherwise.
Savings
When nannies live with a family they enjoy a lifestyle in which most of their basic needs are covered by their employer. Many nannies are then able to save a significant portion of their salary given that they do not need to spend it on every-day necessities. Though nanny salaries are not always sky-high, being able to save a significant portion of any salary is always a positive situation.
Being a nanny is a tough job, but it does bring with it many unique bonuses. Forming relationships, personal satisfaction, enjoying a particular standard of living and having the opportunity to save money are all bonuses of being a nanny that attract many interested candidates to the profession.
You might also like...