Expectations of British Nannies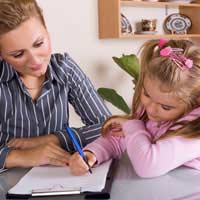 Around the world British nannies are regarded as the best of the best. They are considered the most professional, most knowledgeable and most capable nannies of them all. But where did this reputation come from? And what does it mean for real life British nannies?
Stereotypes of British Nannies
There are two main culprits that promote the stereotype of British nannies: Mary Poppins and Supernanny (aka Jo Frost). Though one of these women is fictional, both are considered the crème de la crème of nannies in modern pop consciousness. They are able to get children to behave, follow directions, learn from their mistakes and have fun while doing all of this. For their own part these women are always immaculately turned out, never lose their temper, never run out of patience and are universally adored by hoards of thankful adults. In short, British nannies are stereotyped as near perfect beings that are capable to take on even the most unruly child – or parent – and leave a charming little darling in their wake.
Real Life British Nannies
Obviously real life British nannies have a lot to live up to. One false move and they can be immediately considered less capable than they "should" be. Even accents and wardrobes can become a problem if employers believe that all British nannies sound, and possibly dress, like the Queen. Clearly both British nannies and prospective employers need to address the issues of stereotypical British nannies and remember that above all, British or not, all nannies are human beings that have talents and flaws. Nannies themselves should make this very clear at the interview stage, even by addressing the issue directly. Warning parents that it is unfair to expect perfection should help. Potential employers should also do a little research on current British culture to understand where potential nannies are coming from as well as ask standard interview questions such as "What are your weaknesses?" and "What activities do you not enjoy?" in order to find out more about a candidate's whole personality.
Defining the Job
In order to avoid a British nanny feeling held to an impossible standard, both potential employers and candidates should take care to try to define the job during the interview stage. Employers should explain the hours of the job, what a typical day would entail, if the nanny will need to transport the child anywhere and whether or not (s)he is looking for a nanny to travel with the family. Nannies should also feel free to state their views on chores, cooking, cleaning and running errands. It is not necessary to be rude about these positions ("I don't do cooking. Ever. Full stop. Not for anyone.") but being respectful and clear will help to avoid misunderstandings later on ("As a nanny my primary responsibility is to the children in my care and I find that cooking often diverts my attention. What were your expectations for meal preparation?"). By being open, honest and real both employers and nannies can help get to know each other and move beyond impossible standards and unrealistic stereotypes.
British nannies are in high demand, and while this means a host of great career prospects it also means fighting stereotypes that have flourished the world over. Both employers and nannies should take care to address these stereotypes and be open to an evolving, real life relationship that benefits everyone.
You might also like...