Nannies and Cooking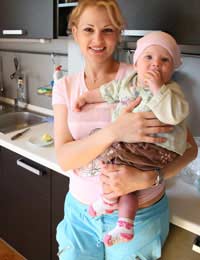 Nannies and cooking can be a bit of a grey area. For live in nannies food should be provided, however nannies must often provide meals and snacks to the children for whom they are caring. As a general rule of thumb, nannies will often need to prepare and serve meals to themselves and children while parents are not in attendance, but nannies should not be expected to prepare and serve meals to the whole family – particularly not when parents are home and able to cook for themselves.
Nannies and Family Meals
Nannies will generally be involved with preparing and serving children's meals, and possibly even with designing menus and shopping for ingredients as well. These responsibilities should all be agreed upon between the nanny and parents and if possible included in a written employment contract. If a nanny is to shop for food, there should be transportation readily available and petty cash at the ready. Nannies should never be expected to use their own income to provide food for the children they look after, even if they are dining out or ordering a take away. If a nanny will be dining with the family then it is reasonable to expect him or her to help in some manner – laying the table, washing dishes, etc. – but it is not reasonable to expect him or her to be responsible for feeding the family. Live in nannies should also be allocated space in the fridge, freezer and/or pantry for their own personal food supplies as well.
Nannies and Cooking Classes
Some employers may want to send their nannies to cooking classes. This should be discussed with the nanny. In optimal scenarios, if a nanny agrees to such classes, then the employers are responsible for paying for the classes and considering the lessons to be part of a nanny's working day (that is, nanny's do not need to "make up" the time they spend at classes). If an employer wants to send a nanny to cooking classes in order for him or her to learn enough to cook for the whole family then this extra duty should be discussed. Again, extra compensation should be offered for this additional work.
Nannies and Food Rules
Regardless of whether a nanny is cooking or not, whether he or she shops for the food or not, and whether he or she feeds children at home or eats out with them, a nanny should always follow a parent's food rules. If parents do not want their children to have fizzy drinks then nannies should not offer these beverages when parents are out of sight. If parents require their children to follow a particular way of eating, such as keeping kosher in a Jewish household, then a nanny should follow these wishes. However, if a nanny feels that a parent's food rules are somehow hurting a child then this topic must be discussed. Nannies should request to speak to the parents in private and explain why he or she believes the rule is hurting the child as well as offer evidence of this situation. Alternately, if a nanny notices a harmful eating habit of one of the children, this must be reported to parents as well.
Nannies will always need to be involved in some degree of food preparation, but they are not employed as personal chefs. Nannies and parents must discuss cooking expectations before a nanny position is filled, and the agreement should be written down in the nanny's employment contract. Any changes to this agreement should be noted as they occur.
You might also like...