Using a Nanny to Help Your Child Sleep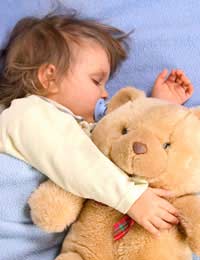 There are some babies who find it difficult to fall asleep or to get into a good pattern of sleep behaviour. When this happens it can be exhausting for the parents and especially the mother who, combined with the emotion of caring for a newborn, may also be trying to cope with other children and so finding it impossible to catch up on missed sleep during the daytime.
Newborn Sleep Patterns
Newborn babies have very short sleep cycles and in the first few days and weeks of life, their bodily needs take precedence and they will wake whenever they are hungry, thirsty, lonely, uncomfortable, or need to be comforted, often crying until their needs are met. But as they grow older, they will need to be taught the habit of sleeping when it's dark and waking when it's light. If their rhythms don't settle down and being awake seems more exciting, then 'bad' habits may develop which could become out of control when the child reaches toddler hood.
Using a Nanny to help your Child Sleep
For parents who feel they need extra support or advice from a professional, help is available. Some nannies are specially trained in helping babies develop good sleep habits and are able to relieve the pressure from the household and allow the mother to rest at the same time.
Sleep Nannies
A sleep nanny will work with the parents to look at the circumstances surrounding bedtime for the child – their diet, their bedroom environment, the pre-bedtime stimuli being received and will then offer advice according to their findings.
Sleep Cycles
One of the first things a nanny will want to establish is when the child becomes naturally tired and needs to sleep. Depending on their age, all babies and most young children require at least one nap during the day and if this is missed, or at the wrong time, they may become 'overtired' and have more difficulty falling asleep later.
Recognising Tiredness
Most children display common behaviour when they are getting tired; they may rub their eyes or ear, yawn, become cranky, tearful or 'look' tired. These are all signs that they need to rest. A sleep nanny will help a family watch for these cues and use them to work out an acceptable time for bed.
Pre-Bedtime Routine
A specialist sleep nanny will also help establish a set routine which teaches a child that bedtime is not far away and enables them to prepare for sleep. The pre-bedtime routine should stay exactly the same each night and its aim should be a gentle wind-down to the day with its essence being calmness and comfort. The signals that the baby learns are that playtime is over and it is time for bed. Common elements of a good bed-time routine are:
A bath and perhaps a gentle massage on a warm towel to sooth the baby
A change into a clean nappy and pyjamas
Some warm milk or a last feed from Mum
Ritual closing of curtains and putting toys away
Tucking into bed with a bedtime comforter
Reading a story, looking at picture books
Singing a lullaby
For many children and parents alike, this can become a precious and memorable time.
Time for Sleep
Once in bed, the lights will be dimmed and the nanny will demonstrate how to leave the child to sleep. She will drop her voice a pitch and slow all her movements down. This helps to lull the baby and imprint clear signals that the day has now ended and it is time for them to sleep. She will then:
Tell the child clearly that it's now time to sleep
Kiss them good night
Turn off the light
Leave the room without hesitation
Controlled Crying
If needs be, controlled crying may need to be allowed, whereby if the baby starts to cry when Mum or the nanny leave the room, they are left to cry for a short, specific amount of time assured in the knowledge that all the child's needs have been met. After the time limit of crying is up, and if it hasn't started to subside, then nanny/Mum will return to baby, walk gently over to the cot to re-assure them, and then without speaking or picking them up, leave the room again. This procedure is repeated until the baby sleeps. Then each subsequent night, the length of time left before returning is gradually lengthened. In this way, the baby learns that someone is always there for them, but that they will not get any other response at night-time and that this is the time to sleep.
Lack of sleep can be hugely detrimental for a family and by engaging a sleep nanny, equilibrium can quickly be restored.
You might also like...