Nanny Training and Development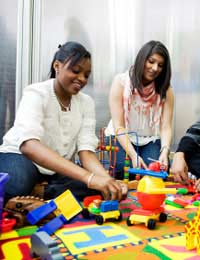 There are a variety of ways in which to train to work a children's nanny. These include attending a full or part-time college course, doing vocational training such as working in a day nursery or by doing a practical placement with a family and learning 'on the job'.
Required Skillbase
To be a good nanny requires certain core skills including the following:
An active interest in children
Patience
An imaginative and creative nature
A desire to help children learn
Good organisational skills
A quick-thinking and 'can-do' attitude
An ability to work as part of a team
An ability to remain calm in stressful or pressured situations
Basic Training
Basic training requires that a nanny either undertakes Level 2 of the Children and Young People's Workforce Certificate and Diploma or already holds one of the other equivalent childcare qualifications such as operated by CACHE, or BTEC Certificates at Level 1 before September 2010.
Further Training
Further training is available to enable nanny's who wish to progress in their career as a nanny to take secondary and tertiary levels of training which will qualify and equip them with a greater range of knowledge and skills. These qualifications will either be the CACHE, BTEC and NVQ Certificates at Levels 2 and 3 or the new Children and Young People's Workforce Certificate and Diploma at Level 3. By taking such further exams, nannies significantly increase their earning potential.
Advanced Training
Longer training is also offered as an alternative route to being a nanny. BA courses are available which cover all aspects of childhood development and equip a student for most types of work with children.
Ongoing Development
Once working as a nanny, there are still opportunities for further training and development which enlightened employers would seek to encourage. Often nanny's can feel isolated in their job and can easily start to feel that they are not 'progressing' in their chosen field. If a nanny is allowed a few days per year during which she can undertake further training or to do an extra course, it will not only help to keep her inspired but also abreast of child development trends.
Additional Learning
Additional qualifications are always invaluable for a nanny to have - either to employ in her current role or with which to enhance her CV to create improved future prospects. Such extra courses might include:
Paediatric First Aid
Dealing with Challenging Children – specialist training
Food Safety and Hygiene certificates
Advanced Safety driving certificate
Working with children with disabilities
Cooking and Baking certificate
Musical skills with children
Maternity nanny skills
Branching Out
Some nannies, once trained and experienced, wish to further their childcare opportunities by undertaking additional training to become a nursery manager or specialist nursery nurse.
For these nannies and nannies who would like to maintain the option of moving side-ways into other types of work with children, the Children's Workforce Development Council (CWDC), operates a website setting out all qualifications needed for work with Early Years, Playwork and Childcare.
You might also like...
@N/A - if you have the relevant qualifications, then to get work you can either:
Register with
a nanny agency
Register as
self employed
and advertise your services
Apply for nanny jobs advertised in your local media or specialist publications
Apply for work in a nursery/kindergarten etc
ABritishNanny
- 23-Apr-15 @ 12:36 PM
I would like to get more information to become a professional nanny. I have Qualifications in childcare to degree standards.
N/A
- 20-Apr-15 @ 9:21 PM