Childcare Training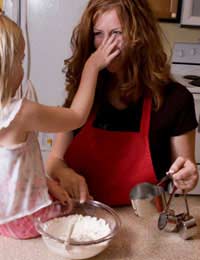 There is no one professional qualification for nannies in the United Kingdom, nor is there actually any requirement for any type of qualification. Employers (parents) may select any candidate that they see fit, and if they are comfortable hiring someone who lacks any sort of certification then so be it. However, there are nanny schools in the UK and several qualifications that confirm that a nanny has had proper childcare training.
Life Experience
Some parents choose to employ nannies without any formal qualifications because they feel that the candidates' life experiences are enough to qualify them for the job. If parents are considering a nanny without any qualifications, they should be sure to think about the candidates' childcare experience, hobbies and interests and related skills. Looking at these areas will help parents gain a better understanding of nanny candidates as well-rounded people, and to understand what they would bring to the family and the children. Having an informal discussion about these topics during interviews with candidates is a smart idea for any parent looking for a nanny, as is following up any and all references that are supplied.
Nanny Schools
There are two main nanny schools in the United Kingdom: Norland College and Chiltern College. Montessori Centre International also graduates a number of students who go on to become nannies. Norland College is located in Bath and offers opportunities for both classroom learning and practical experience. The College offers students the opportunity to study for the Norland Diploma in Childcare and Education (DCE) followed by a one year probationary period before the full Diploma is awarded. Chiltern College is located in Reading and caters to both residential and non-residential students who work towards, among other things, the Chiltern Certificate which stresses both classroom learning and practical applications. Motivated students can also undertake the one year International Postgraduate Diploma Course offered by the College. The College also offers a one year, part time Montessori teaching course. Montessori Centre International offers full time, part time and distance learning opportunities to interested students. The Centre stresses the Montessori approach to education in which teachers are trained to help children become self-educators. Successful graduates of the Centre can earn an International Diploma in Montessori Pedagogy as well as a number of more foundational certificates.
Other Child Care Training
There are also a variety of other child care training opportunities available for people interested in becoming nannies. The CACHE Level 3 Diploma in Child Care and Education allows students to learn more about children aged 0 to 7 years and 11 months. It is a 2 year, full time course that includes about 125 days of practical placements. The main subjects studied include The Developing Child, Health and Community Care. The NVQ Level 3 Early Years Care and Education (England, Wales and Northern Ireland) and its Scottish equivalent require that students be able to pass assessment in work-related, competence-based skills based on national standards. The LCCIEB NVQ Level 3 in Early Years Care and Education, the Advanced Modern Apprenticeship in Early Years Care and Education, the CACHE Level 3 Diploma in Early Years Practice and the NVQ Level 3 Certificate in Work with Children APEL (Accreditation of Prior Experience and Learning) are also qualifications that should let parents know that a nanny candidate has proper training in child care.
Though there is no particular qualification for professional nannies in the United Kingdom, there are some awards that parents can look out for to know if a candidate has been trained in child care. Awards from nanny schools and vocational training bodies are the type of certification that parents should look for in a trained candidate, though parents are also free to choose an untrained nanny if they feel that his or her life experience is relevant to the job.
You might also like...