Children and Young People's Workforce Certificate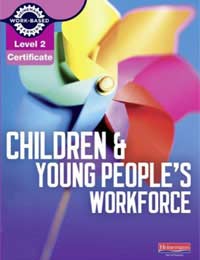 The Children and Young People's Workforce Certificate is a new initiative by the Children's Workforce Development Council (CWDC). They are a government-affiliated body, currently sponsored by the Department for Education until 2012, whose aim is to lead change in the children's sector. It is concerned with all aspects of those working with children or young people be it in a voluntary or paid capacity.
A British Nanny spoke to the CWDC to ask more about this new scheme. Here is what they told us:
What is the Children and Young People's Workforce Certificate?
The Level 2 Certificate for the Children and Young People's Workforce is for practitioners entering the children and young people's workforce and has been designed to enable them to develop and demonstrate core functional skills in Maths and English (in order to support working with children and young people) and ICT skills (for communication and supporting settings with IT).
Why was the Certificate introduced?
The certificate was developed after consultation with employers who expressed their requirements on the core skills and knowledge that practitioners should demonstrate when they enter the workforce. Training Providers started offering the qualification in August 2010
How will Core Skills help those working in the Childcare Sector?
These core functional skills and knowledge are common across the workforce and aren't sector specific. They provide entrants with knowledge about the children's workforce in its wider context. The certificate acts as a platform for practitioners (particularly in the early years sector) to progress to the Level 3 Diploma for the Children and Young People's Workforce, then on to foundation degrees, Early Years Professional Status ( EYPS) and higher education study.
What will the New Certificate add to the Childcare Sector?
The aim of CWDC is that the new level 2 qualification will help employers to encourage the increase in skills and competence of their workforce, leading to higher level qualifications and enabling a 'grow your own' approach to staff development and career progression.
Is the Certificate a Voluntary or Mandatory Qualification?
This is not a mandatory qualification. (Various sectors within the workforce have mandatory levels required i.e.: in social care it is at Level 3). The qualification however, has been designed to help people enter the workforce through the provision of core skills and knowledge.
Will the new Certificate supersede alternative Childcare Qualifications?
CWDC's intention was that from a 'specified or cut off date' all new learners who wished to achieve a Level 2 or a Level 3 qualification that is deemed to be full and relevant for the purposes of registration and regulation would need to undertake the new Qualification and Credit Framework Level 3 Diploma or Level 2 Certificate for the Children and Young People's Workforce (Early Learning and Childcare Pathway). This would mean that other current qualifications' in the sector would no longer be accepted as such if commenced after the specified date. The specified date is currently identified as January 2011.
Will other Childcare Certification still be recognised?
Yes, childcare qualifications already undertaken and gained prior to January 2011 will still be recognised. Also, CWDC executive is reviewing the situation and expects to issue a series of recommendations regarding the specified or cut off date and current qualifications by 17 December 2010.
What Level Certificates are currently available and who is it administered by?
Both a Level 2 Certificate and a Level 3 Diplomas for the Children and Young People's Workforce are currently available. Both qualifications are administered by awarding organisations (i.e.: Cache, EdExcel, City & Guilds etc) and are offered through a range of providers.
You might also like...