Discussing Sensitive Topics with Parents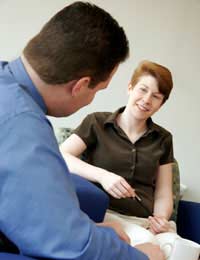 As a nanny you walk a fine line between being a big part of a child's life and not an actual family member. This in-between location can become very obvious at times, particularly when sensitive topics are brought up. Unfortunately as a professional you will always have to do what is best for the children that you are looking after, even if this means broaching potentially sensitive issues. Below are some common sense tips to help with discussing sensitive topics.
Prepare
It can be very hard to bring up a sensitive topic with a parent who may or may not have any idea of what is going on. If, for example, you are concerned about a child's development then you'll want to prepare to discuss this topic by reading up on it, possibly bringing along a recent article or relevant book on the topic, and being sure that you can discuss the topic in relation to the particular child. This means that you'll want to be sure of what you've observed. For example, if small muscle control is a problem then you'll want to know exactly what tasks the child can complete and what tasks give him or her trouble. For a speech problem you'll need to be able to tell parents what you have noticed, such as that a stammer gets worse when the child is under pressure or that the child's stammer manifests only at school. But bringing up a problem is only half of the discussion. Knowing possible solutions is also important. Therefore doing some research into activities that will help develop small muscle control or speech therapists in the area who are known for their work with stammers is a good idea.
Make an Appointment
Even if you have the best possible relationship with your employer, making an appointment to speak to him or her about a sensitive topic is a good idea. You needn't be dramatic and ask to be put you in the diary (although then again you might!), but simply saying "I'd like a few minutes to chat today. Could I meet you in the study when the kids are in bed?" Asking for a private location is also a good idea. Be warned, it may be that your employer immediately becomes defensive or suspects the worst, so it's up to you to let them know that you are in a good frame of mind. Smiling, speaking in a positive manner and generally acting warm and open will help put their mind at ease before you meet. Also be warned that some parents may be very busy and it won't be possible to meet with you at the suggested time. Rather than assuming that they do not want to speak to you or do not consider you important, simply ask when would be better for them. Make sure that they agree to a specific date, time and location before you let the matter drop.
Stay Calm
When it does come time to discuss a sensitive topic, stay calm. It can be very easy to become defensive, flustered or even embarrassed when you need to tell parents something about their child that they may not necessarily like or even believe. Don't let this throw you. Calmly reiterate the facts as you know them. If a parent begins to shout or you believe that (s)he may become otherwise abusive, calmly state that you will not tolerate such behaviour and that you would be happy to discuss the topic again when (s)he feels more calm. If the behaviour is violent or you feel threatened, leave immediately. It can be hard to discuss sensitive topics about their children, but there is no excuse for parents to take out negative emotions on you.
You might also like...
I was a nanny to a delightful little boy for 7 years. I noticed the he was struggling with his writing more than other children but his reading was fine. I did some research and thought he might have dysgraphia. I broached it by saying how great his reading was, that kind of softened the blow. They got him help and were really grateful to me for spotting it.
NannyMcPhee
- 18-May-12 @ 9:53 AM