Live Out Nannies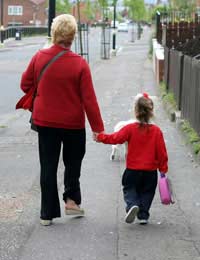 About 80% of nannies working in the United Kingdom are live out nannies, or nannies who do not live with the family for whom they work. Though the general duties of a live out nanny are similar to those of a live in nanny, wages are usually higher (because they are not accepting "free" room and board) and hours may be more flexible. Live out nannies should also be compensated for any extra time or babysitting done outside of regular working hours.
Duties
Whether they are live in or live out, nannies are generally responsible for all aspects of childcare during their working hours. Transporting a child to activities, helping a child with homework, arranging and supervising play time activities for a child and taking a child on outside activities are all common duties of a nanny. Doing laundry, preparing a child's meals and running errands during the day may also be the responsibility of a nanny though any duties not obviously related to childcare should be discussed and agreed upon before a position is filled.
Wages
Nannies are usually not paid a strict per hour wage but instead agree to a weekly or monthly salary. For live out nannies, nannies in central London make the highest amount (approximately £400), followed by nannies in other areas of London and the surrounding counties (approximately £350), followed by nannies in the rest of the country (approximately £300). Generally nannies are entitled to four weeks paid holidays per year. These four weeks should correspond to an average working week for the nanny. Usually the employer dictates two weeks and the nanny is allowed to choose the other two weeks. If a nanny is to accompany a family on their holidays, this is not to be counted as a nanny's holidays as well. Tax and National Insurance are covered by a nanny's employer.
Hours
Nannies are covered by the Working Time Regulations which limit an employees' work week to 48 hours. However, the Regulations allow workers to work more hours per week if they wish and many nannies routinely work 50 – 60 hour weeks. Live out nannies often work 8 to 10 hour days, however if they are to stay longer than these agreed upon hours then they should be compensated for this extra work. Nightly babysitting, for example, should not simply be assumed but should be offered to a nanny who has the right to refuse these extra hours or accept them for extra pay. The hours worked per day or week should be agreed upon by the nanny and parents, and may well include traditionally "unsocial" hours such as early morning or evening shifts.
Live out nannies perform much the same duties as live in nannies but are usually paid slightly higher wages and have much stricter hours of work per week. Any work done by live out nannies that is in addition to the agreed upon hours should be compensated. Live out nanny hours may be unsocial and they may not be full time. Duties, hours and wages should all be discussed by both the nanny and employer and agreed upon in writing before a position is filled. Both the nanny and the employer should keep copies of this agreement for future reference.
You might also like...