Building a Relationship with the Children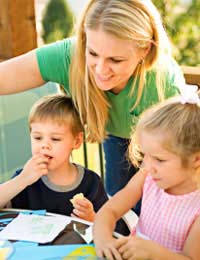 It does not matter how glowing the references from your last job, if you are unable to build a relationship with the children at current you may not find yourself employed by the family much longer. Working with children is certainly a tough environment to build trust, particularly since children are not totally rational and logical creatures but instead often rely on their emotions to guide their relationships. In order to help build these relationships, nannies should take care to build the children's trust, be there for them, bring them order and enforce fair discipline. When children know what to expect they feel more in control, and being more in control can help them take a risk and come to count on someone new - like you.
Build Their Trust
Just like adults, some children are naturally trusting and some are naturally distrusting. Working with children means that a nanny will need to look for behavioural and emotional clues about a child's temperament since many children are unable to verbalise their thoughts and feelings.
Children who are happy to spend time alone and take a nanny's hand, for example, are likely to be more trusting than those who will not leave the side of a friend or sibling and do not want the nanny to touch them. However, nannies can always help to build the trust of the children they work with. Nannies can do this best by simply being honest with children. If it is not a day for the park then say so, don't allow children to think that they can go and then tell them that they can't. Not only will this upset children, but they will begin to question whether or not they can trust you. Keeping promises and having their parents show trust in you are also good ways for nannies to build trust with children.
Be There for Them
Some children may feel abandoned when their parents leave them with others and they may come to expect that all adults will leave them at some point. While obviously nannies can not stay with children forever, nannies can make a point to be there for the children during their working hours. The more interaction the children have with the nanny, and the more the children can both see and feel the nanny's presence in their home, the more likely it is that a relationship will develop between them.
Bring Them Order
Children crave order, but many of them don't even realise it. Nannies are in a perfect position to bring order into children's lives in the form of a daily schedule. When children know what they are doing next, and what they can expect tomorrow or next week they usually feel more in control of their lives. This feeling of control will likely make them feel more trusting towards those involved in their daily lives, nannies included, and more willing to build a relationship with them.
Enforce Fair Discipline
Children never enjoy being reprimanded, but enforcing fair discipline is another way for nannies to help children feel in control. When a child knows that throwing blocks is wrong but does it anyway, nannies must discipline the child to remind them that their actions were inappropriate. Nannies must also enforce this discipline so that the child knows that each and every time (s)he throws the blocks she can expect the same response. When a child feels comfortable in this rhythm (s)he may not only cease with throwing blocks, but come to understand a nanny's methods of discipline and teaching (even if (s)he would not be able to say that this is something (s)he now knows). When this is the case the child may be more ready to build a relationship with the nanny, particularly when they have history together and common events and activities to build upon.
Building a relationship with children is not something that nannies can rush. Children must be given the time to adjust and feel comfortable with the nanny. By building their trust, being there for them, bringing order to their lives and enforcing fair discipline, nannies can help build these relationships with the children.
You might also like...