Maternity Rights as a Pregnant Nanny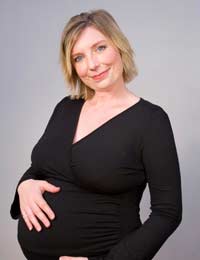 Maternity rights, benefits and allowances are a minefield for any expectant mum, but your maternity rights as a pregnant nanny can seem even more confusing!
As soon as you discover you are pregnant, you will undoubtedly be thinking about the impact your pregnancy is going to have on your job – not only in terms of your maternity rights, but also the day to day practicalities of caring for other people's children whilst having a bump on board yourself!
Your Employer's Obligations
If you have worked for your employer for at least 26 weeks by the time you are at the end of the fifteenth week before you are due to give birth, then you are eligible for Statutory Maternity Pay (usually known as SMP).
In order to set the wheels in motion to secure your maternity pay, you must get a MAT B1 certificate from your Doctor or Midwife. These forms are issued after the twentieth week of pregnancy, and your health care provider should be fully up to date and conversant with their issue.
Maternity Leave
As an employee, you are entitled to 52 weeks maternity leave even if you do not qualify for Statutory Maternity Pay. You can begin your maternity leave as early as the eleventh week before your due date. As early on as possible, do keep your employer fully up to date with your intentions – you can change you mind about the date at which you wish to start your leave, but you are obliged to do so 28 days before the date originally notified.
If you plan to return to work after your baby is born, you do not need to specifically (for instance, re-iterate in writing) tell your employer if you intend to come back immediately at the end of your agreed period of leave. If you decide to return at a different, earlier time, then you must inform your employer at least eight weeks beforehand.
For nannies who decide not to return to work at all, either statutory or contractual notice (which ever is the greater) must be given to the employer.
Practicalities
When you first discover you are pregnant, you are likely to run an entire gauntlet of emotions, and in the early weeks perhaps even suffer physically from tiredness or nausea. Whilst in many professions, women usually choose to hold off informing their employers of their condition until they have had their 12 week scan, for health and safety reasons, nannies may prefer to inform their employers as soon as possible. Certain childhood illnesses, can, for example, be extremely dangerous to a woman in the early stages of pregnancy, or you may need time off for appointments or because of sickness.
Although you are under no actual obligation to do so, being up front with your employer from the start, is sure to make for a smoother working-pregnancy long term!
As your pregnancy progresses, ensure your employer is aware of any limitations you now face and have regular meetings and chats to ensure that your health and safety – and that of your charge – is never being compromised. Bear in mind the things you routinely did pre-pregnancy will perhaps not be quite so easy at eight months gestation!
You might also like...