What to Ask When Interviewing Maternity Nurses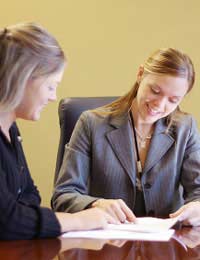 Each family will interview maternity nurses in their own way, but there are some common features of these interviews. Knowing what they want, asking about a maternity nurse's training and experience, discussing what is needed from a maternity nurse, asking about a maternity nurse's baby care philosophies and discussing a maternity nurse's expectations of the family are all appropriate topics for interviews.
Knowing What Is Wanted
Families who seek to hire maternity nurses should know why they want them. Sometimes it's best for these families to write down their expectations of a maternity nurse prior to an interview so that they can remember to discuss these topics. It also doesn't hurt for families to write down specific questions for the interviews so that there is never any dead period or dip in the discussions.
Asking About Training And Experience
All families should ask maternity nurse interview candidates about their training and experience. It may emerge at this time that a maternity nurse has no formal child care training, but trained in another profession such as a nurse, midwife or health visitor. It may also emerge that a maternity nurse has no formal training but has decades worth of experience.
Each family will need to decide on their own what kind of training and experience they feel comfortable with, but probably should not discount any candidates until their references have been checked. If at all possible, families should speak with these references rather than accept a form letter as supplied by a candidate.
Discussing What Is Needed
During the interview families should not be shy about telling a maternity nurse candidate exactly what they envision as her role in the family. This will include discussing what tasks she would be expected to complete, where she would be expected to sleep, how she would be expected to interact with other children and extended family members, what her start date would be and how much the family could afford to pay her.
Families who can not compromise of these items should be clear about this, however most maternity nurses will not take kindly to strict rules without at least discussing them first.
Asking About Baby Care Philosophies
During interviews families should take care to ask maternity nurse candidates about their baby care philosophies. For example:
How they will find a routine for the baby
If they are supportive of breast and/or bottle feeding
What they think about using pacifiers/soothers
How long they will allow a baby to cry before soothing them
If and how they record a baby's daily activity
If they would take a baby on walks or other outings
These are all topics that families should bring up during interviews with maternity nurse candidates. Asking candidates about how they spend their time off, if they would eat with the family and if they wear a uniform might also be appropriate during interviews.
Discussing Expectations Of The Family
Interviews must also include time for maternity nurses to ask questions of the family and discuss their expectations of the family. Experienced maternity nurses will no doubt have some requirements of their own for each of their positions so families should not be surprised if a candidate sets forth her expectations in an interview.
The role of the mother and father, the role of older siblings and how the maternity nurse will interact with visitors such as extended family members and family friends may all be discussed by maternity nurse candidates during interviews. Wages, sleeping arrangements, working hours and days off are other topics that maternity nurse candidates may bring up.
Families may be confused about what to ask maternity nurse candidates during interviews. Discussing their expectations of a maternity nurse and a maternity nurse's expectations of a family is usually the basis of a good interview.
You might also like...