What is a Doula?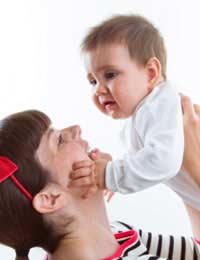 The word 'doula' comes from the Greek, meaning slave, female servant or carer. Today, a doula is a woman who provides support to a mother and family throughout her pregnancy, birth experience and postpartum period. Often, but not necessarily having had her own children, she is seen as a kind of 'replacement' in Western Europe for the traditional mother, aunt, older sister or wise woman of the community in times gone by.
Supporting Role
A doula will come alongside a family to help and encourage them as they prepare for the birth of their child; specifically, she will provide close support for the mother. She doesn't replace that already given by the partner but is there to facilitate that support and enable the mother or couple to relax and enjoy the whole experience.
What does a Doula do?
During the pre-natal stages, a doula will establish how the mother is feeling about the impending birth, soothe any nerves and help to empower her so that she feels strong and in control of what is happening to her. She will answer questions and explain the physiological changes taking place to a woman's body as her baby develops. She will also discuss how she feels about the birth, what kind of experience she would ideally wish to have and aid her in making a birth plan.
Liaison
The doula will also work in a liaising capacity if desired, between the family and the hospital, midwife and health worker, arranging procedures so that the whole labour experience is well organised and as smooth-running as possible.
Well-Being of the Mother
A doula is there for the mother's comfort and well-being. This will include helping relieve discomfort or early labour pains with massage, by administering a TENS machine or with relaxation techniques. She might also help with deep-breathing exercises and positive thinking to help the mum maintain control and calm.
Birth Doulas
Birth doulas are those which specifically attend the mother during labour and throughout the birth itself, whether that's at home or in hospital. Maternity units are beginning to accept their presence more widely as the outcome of the birth appears to be a better experience for all. The doula in this instance will provide emotional and psychological support throughout without taking the place of the partner. At no point do they take the place of medical staff.
Are Doulas trained?
Most doulas undergo training and assessment and most will also have been through childbirth themselves, although this is not always the case. It is however important to recognise that they are not trained in medical care and their role is to provide non-clinical support. Doula UK, the largest association of doulas in this country, has established a recognition system for their doulas and is looking to build on this in the future.
Post Natal Doulas
Just as it is possible to book a pre-natal and birth doula, it is also possible to use a doula for post-natal care. A doula in this role will normally advise on all aspects of caring for the baby, such as feeding, bathing, nappy-changing, burping etc, but whose focus will still be on respite for the mother. She will allow the mother time to bond with her baby whilst she may run errands, do some light house-cleaning duties, attend to older children and give time for the mother to sleep whilst the baby is cared for.
You might also like...