Maternity Nurses for Multiple Births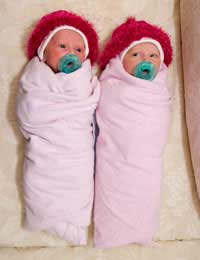 Maternity nurses are often hired to provide post natal care and support for mothers and babies following the birth of multiples (two or more babies in the same pregnancy).
Some maternity nurses even specialise in multiple births and are therefore skilled at seeing to the needs of, and establishing routines for, many babies at once. But maternity nurses for multiples don't just look after babies, they also help mothers rest, recover, feed their babies and become comfortable with their babies' routines - among other things.
Seeing To The Needs Of Multiples
The needs of multiples are generally the same as any baby's needs, just multiplied and happening at the same time. Multiples need to be fed, clothed, bathed, have their nappies changed, taken to the GP and/or allowed to see the health visitor, put down for naps and the night as well as stimulated and of course loved and cuddled. When all of these needs must be met for more than one baby at a time, the extra pair of hands provided by a maternity nurse will come in very handy.
Maternity nurses will also be the first to respond to babies' needs during the night so that parents can get a little bit more sleep.
Establishing Routines For Multiples
Establishing routines for multiples can be difficult. Even with twins it is hard to rotate through caring for the babies as needed and ordering their days so that they are all comfortable and content, but with multiples of more than twins (triplets and beyond) it can be quite a trial for just one person, or even just two parents, to try to set up routines on their own.
The knowledge and experience that a maternity nurse for multiples can bring is often invaluable to get babies started in routines that the parents can then follow after the nurse leaves.
Helping Mothers Of Multiples
Maternity nurses can also provide great help to the mothers of multiples in the weeks following birth. As many sets of multiples are delivered via caesarean section a maternity nurse will be able to give mothers some time to physically rest and recover before having to care for her babies on her own.
During this time maternity nurses may cook light meals for mothers, help them bathe and dress, and help them move around the house. This should allow the mother's body extra time to heal before having to do all of the walking, lifting, bending and other activities that come with caring for many babies all at once.
Maternity nurses experienced with multiples will also be able to help mothers with breastfeeding for multiples, as well as establishing breast and bottle feeding routines, and introduce mothers into the routines that have been established for their babies. Some maternity nurses will also help to integrate older siblings and other family members into the babies' lives.
Some maternity nurses specialise in the care of multiples. These maternity nurses are experienced in seeing to the needs of multiples, establishing routines for multiples and helping mothers of multiples following the birth.
You might also like...