Childcare Certification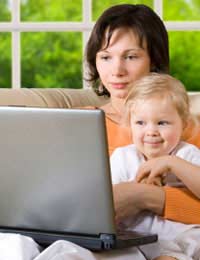 There are a variety of courses that lead to a child care certification in the United Kingdom, so if you are considering employing a nanny it is best to understand the difference between these options. Online and distance learning courses, City & Guild courses, university courses and nanny schools and training courses are all possibilities that you might encounter when interviewing potential nannies.
Online and Distance Learning Courses
Online and distance learning courses, or courses that are completed either online or through the post, used to be considered a lower tier form of education. Today online and distance learning courses flourish and the Open University even awards undergraduate and postgraduate degrees and diplomas to students who complete the majority of their coursework from the comfort of their own home. Many of the students who complete a child care certification in this manner do so because they can not afford to be full-time students. This means that their employment history and life experience may be great. However, many of these courses require little (if any) face to face time with instructors or practical work with children so you'll likely want to ask about outside references and proof of experience as well.
City & Guild Courses
City & Guilds is an organisation dedicated to vocational learning in the United Kingdom. City & Guilds offers certification in children and young people services as well as early years which addresses child development, learning, care and safety. To make "quality control" easier, the SureStart Approval Scheme acts as a stamp of authenticity and guarantees parents and employers that those who are approved by the scheme have met certain standards. Some parents may also be able to claim tax benefits if they use a SureStart approved nanny or child care worker. If a candidate does hold a City & Guilds certificate but does not have SureStart approval, it may be best to ask about this discrepancy.
University Courses
Most university courses that provide an education on child development, childhood education, social work with children and child psychology do so in a classroom setting. This means that academically these courses are advanced and it requires a minimum standard of education and ability even to enrol in these courses. The resulting marks awarded for passing these courses are also an easy way to judge a student's academic performance. However, again it may turn out that these courses had no practical component so parents will want to investigate potential nannies' experiences as well as educational criteria.
Nanny Training
There are also some dedicated nanny schools and training courses in the United Kingdom. Probably the best known nanny school is Norland College. The College is over 100 years old and Norland Nurses are in great demand throughout the world due to their rigorous training. A variety of other training courses are also available which provide nannies with certification in particular skills, including first aid. Some of these courses may be held by particular nanny agencies, so it will be to your benefit to establish if a potential candidate holds an independent certification from any agency which may be pushing him or her forward to you.
Regardless of the type of certification that a potential nanny holds, parents are always advised to confirm this documentation with the awarding body and follow up with any references provided. A good nanny will be ready for this and will not consider it out of the ordinary.
You might also like...
hi i would like to know that how can i apply for babysitter online course.AND all information about the courses that you have.please email me all information. warm regard samira
sami
- 19-Aug-14 @ 11:22 AM
I would like to know how to get on a course
moza
- 25-Jun-14 @ 6:48 PM
I ll like to be a nenny it is possible with this course ? Thanks
Geany
- 25-May-13 @ 9:40 PM
There is some great information here, but under nanny training I feel that The Chiltern College should be mentioned. I trained there and we undergo just as much training as what Norland Nannies do.
KKB
- 29-Apr-12 @ 8:03 PM
I would love to become a nanny. I'm 37, former press officer. Is that possible ? Thanks.
ClairefromFrance
- 8-Dec-11 @ 1:16 PM
I am gnm staff nurse.i want to do a certificat course for nannys
radhi
- 21-Sep-11 @ 12:27 PM