Life Experience for Nannies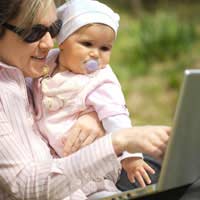 While there are a variety of types of certification that parents can look for to help them select a professional nanny, they are still free to select whoever they feel would be the best fit for their family. This means that looking at candidates as whole people, complete with career qualifications, educational credentials and life experiences, is a smart idea. The life experiences in particular will help parents get a sense of who the candidates are, what they like to do and how their particular interests might affect their children.
Childcare Experience
Chief among the qualities that parents should expect in a nanny candidate is childcare experience. This may stem from a candidate's qualifications, such as candidates who completed work experience as part of their educational curriculum, but it may also simply be a part of the candidate's background. Looking after his or her own children, younger siblings, nieces and nephews or babysitting in the neighbourhood are all ways in which a candidate's life experience in childcare may make it appropriate for them to work as a nanny. It might be a good idea, however, to ask such candidates their own views on child rearing, particularly regarding controversial topics such as smacking, to make sure that you are both on the same page regarding your own children.
Hobbies and Interests
Asking a nanny candidate about his or her hobbies and interests is a great way to get to know each potential nanny as a whole person. It is also a smart way to find out what types of activities your children may be exposed to while in a particular nanny's care. For example, a nanny candidate who used to give swimming lessons would be a good fit for a family that loves to swim. A nanny who sings in a choir might be a good fit for a more musical family. And a nanny candidate who enjoys cooking may result in many tasty treats for the whole family. However, if you specifically want your nanny to undertake any of these activities this should be made clear in the interview and factored into a nanny's wages.
Related Skills
Aside from childcare, many nanny candidates also have a variety of related skills that could come in valuable when looking after children. Computer skills, language skills, first aid skills and artistic skills are all commonly found in the "miscellaneous" section of CVs, and many nannies are also looking for a career change from another area, for example from teaching or paediatric nursing. Taking a minute to discuss a candidate's related skills and qualifications could bring to light some interesting life experiences that you'd never even considered yet may make this (wo)man the perfect person for the job.
Though a professional or educational qualification helps parents easily separate potential nanny candidates, life experience should not be ignored either. Childcare experience, hobbies and interests and related skills are all important for parents to recognise in order to get a better understanding of nanny candidates as well-rounded people, and to understand what they would bring to the family and the children. Having an informal discussion about these topics during interviews with candidates is a smart idea for any parent looking for a nanny.
You might also like...