Work Experience for Nannies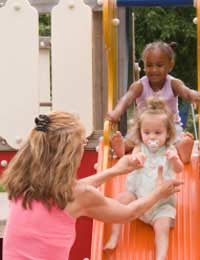 In addition to professional qualifications and educational credentials most parents interested in hiring a nanny will also want to learn more about a candidate's work experience. Most nannies will have some type of work experience, whether it is as informal as babysitting for a younger sibling or as formal as having been a private, live-in nanny for a previous client. When discussing this employment history, nannies and parents should both remember to touch upon the type of experience, location of the experience, supervision during the experience and any evaluations that took place related to the experience.
Type of Experience
It is imperative that nannies are completely honest regarding their previous work experience. They should be prepared to discuss the type of experiences that they have had as well as their main duties and any unusual duties that they undertook in relation to these positions. Critical factors like how many children they were responsible for and what the daily schedule was like should be touched upon. If work experience was undertaken as a requirement for a professional or educational qualification then this should be mentioned as well.
Location of Experience
Nannies should be up front about where their work experience took place. If they were a private, live-in nanny then this should be explained, as should related experiences such as working at a nursery or day care centre, early childhood teaching positions, au pair positions or anything similar. If a nanny has been working in a location far from the job (s)he is interviewing for, it is common for this to be mentioned. Parents should feel free to ask such nannies why they are interested in relocating, particularly if they have been living and working abroad.
Supervision during the Experience
Nannies enjoy the unique environment of being left alone with no supervision for most of their working hours. However, this does not necessarily delight parents who are trying to guess how a nanny with interact with and treat their children when there are no "witnesses" around. It is perfectly acceptable for parents to ask potential nannies what level of supervision they experienced in past employment, as well as to expect that at least one of the candidate's references will be from an employer who was responsible for him or her in a working environment.
Evaluations Related to the Experience
In addition to a reference, most nannies who have work experience in an area of childcare will have had an evaluation related to their position. This does not mean that they will have copies of these evaluations or that they will feel free to distribute them during interviews, but it does mean that past employers may have records of these evaluations. When a parent considering employing a nanny follows up on a candidate's references, these evaluations will likely inform the past employer's statements.
Work experience in a field related to childcare is quite common for professional nannies. Those who do not have work experience should not necessarily be disqualified from a potential position, but parents should be sure to follow up with any work related references that a candidate does possess. In addition to professional qualifications and educational credentials, work experience should be a major subject to discuss during interviews for a potential nanny.
You might also like...