Getting the Right References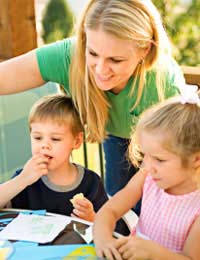 Nannies work directly with children and usually while unsupervised, so it should come as no surprise that employers (parents) will want some kind of assurance that these individuals are both safe and qualified to be responsible for their offspring. This assurance usually comes from a nanny's references. Nannies should not be surprised that potential employers will want to check up on them, and should in fact be ready to offer written references as well as contact information for the references at any time in the hiring or probationary period. Like any hopeful candidates, nannies should attempt to offer (at least) one educational/training reference, one past employer reference and one character reference.
Educational/Training Reference
Nannies with educational or training experience in a child care related discipline should be able to produce references who can attest to this. Those who attended a nanny school or university will probably have the easiest time with this, as these instructors will be well versed in writing references. However, anyone who successfully completed a certification in child care should be able to approach a past instructor and ask if (s)he would act as a reference. There are usually many past pupils who will require this service, so it is always best to bring a copy of your full CV and possibly even some past samples of your coursework to give the instructor gentle reminders of who you are and what you did.
Past Employer Reference
Unfortunately it would be very easy for a nanny to fake a past employer reference given that most past employers are simply private families. It's not nice to think that someone else may assume that you are lying, but you must be prepared for that fact that this may be the case. Provide a potential employer with the necessary contact details of your last family and include some information that will help him or her feel more secure, such as the ages of the children you looked after, where you travelled with the family for their summer vacation, which museum you tended to take the children to on a day out or even which restaurant was a special treat for the kids. Any small detail such as these, which can be confirmed by your past employer, may help a potential employer feel more secure.
Character Reference
Character references can be tricky. It would be very easy to direct potential employers to your parents and have them wax poetic about how special you are, but this is not ethical. A character reference should be someone who has known you for a while and can attest to your skills, but is not a relative or close friend. Past teachers and sports coaches often work well as character references for younger nannies, as do religious leaders for nannies of any age. A past employer in a different industry would be able to discuss your worth ethic in general, and someone you volunteer with on a regular basis could provide an accurate assessment of your personality. Remember, character references should know you well enough to discuss you, but they do not necessarily need to have been a part of your education or employment history.
Getting the right references can be hard for a nanny who is just starting out, but asking a former instructor, past employer or character reference to speak on your behalf is simply a part of life. Don't be shy about approaching the best candidates for the job – after all, your own job may depend upon it.
You might also like...