Day in the Life of a British Nanny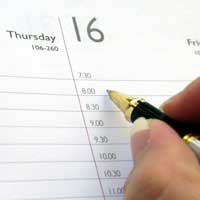 A nanny's life can vary enormously and most nannies' would agree, that there's actually no such thing as a typical day. But nevertheless the question as to what nanny's actually do on a day-to-day basis is one which gets asked again and again. So we asked full-time, live out nanny, Karen Scott, to give us an insight into her world by asking her to write a simple diary sequence of the day's events.
This is what she wrote.
07.00 – 08.00
"The alarm goes off. I groan, sneak another ten minutes and then force myself out of bed. Once up, I'm OK and get showered and dressed. I always wear something practical that doesn't matter if it gets food spilled on it or paint spattered. Life with children can be messy! I grab a quick cup of tea and a bite of toast and head out the door for 07.45."
08.00 – 09.00
"I arrive at my family's house for 8.00 o'clock and prepare to take over from Mum, Jane, by 8.15. We've got into a good routine now and the hand-over period is generally pretty quick, but if I need to know anything in particular, Jane will have a word, leave me a note or sometimes we chat on the phone when she's safely on the train.
"Once she's gone, I make sure Bella (aged 4) and Emily (aged 7) are eating their breakfast and help Tom (2) to eat his. I then make sure they brush their teeth, get their clothes on and while they do this, I put together a packed lunch for the two girls. Sometimes we might practise a times table or I might listen to Emily practise the piano for a few minutes before we set off for school, but the time usually gets taken up with clearing the breakfast things away, sorting out Tom, and making sure the girls' hair is done. Luckily the school is only 10 minutes walk away so we don't have to actually leave the house until about 08.45."
09.00 – 12.00
"Once I've got Bella and Emily safely into school, I take a slow walk to the local nursery with Tom, who goes for three half days per week, and drop him off. I then return to the house where I finish clearing up the kitchen before heading upstairs to the children's rooms. I make sure the beds are made, curtains opened, toys tidied up and that they are generally clean and tidy. I'll then put a load of washing on, sanitise Tom's nappy bin, do some ironing and decide what to cook for tea, if Jane hasn't left instructions. If we're out of essentials, I will make a list of anything we need and possibly fit in a visit to the supermarket before I collect Tom.
12.00 – 15.00
"Afternoons can vary according to the weather and also how tired Tom seems, but general things we do would be, go to the park, visit the library, do an art or craft activity, take part in a drop-in music session, go to the swimming pool etc. This is a lovely special time and we have developed a good bond with each other."
15.00 – 18.00
"This is a busy period for me, as I have all three children with me, who have different needs. Tom and I go to pick up his big sisters from school and we might chat to one or two of the other mums and nannies at the school gates as Bella comes out first and Emily 20 minutes later. Then, depending on the day, we either take one of the girls to an after-school activity (ballet and brownies for Emily, ballet and swimming for Bella), or go home where I give them a snack and some chill-out time before tea time. If any homework or music practises need doing, I generally supervise this during this period as well."
18.00 – 20.00
"After tea, I have an impressively organised bath rota one after the other - bish, bash, bosh! - and then we tuck up together for stories with Tom before he nods off. Depending on how late her train is, Jane gets home anytime between 6.30pm and 7.30pm. She naturally tries her best to get home for bed-times and likes to read to the girls herself if possible. They love it when she arrives home and I will make a subtle exit from the room to give them a few minutes 'cuddle' and 'catch up' time alone while I get my things together. Then I pop my head round the door to say goodbye to the girls and Jane will come out to have a de-brief and chat over anything that's happened, school letters that need signing, or things I need to be doing for the next day. I finish at 8pm and go home to unwind before it starts all again the next day!"
You might also like...