Live In Nannies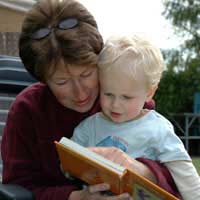 Approximately 20% of nannies in the United Kingdom are "live in" nannies - that is they live with the family for whom they work. This does not mean, however, that these nannies are available to work for the family every hour in which they are in the house. Live in nannies should be treated with dignity and respect, and should have an employment contract just like any other employee. This contract should address accommodation, food, wages, holidays and anything else that is agreed upon. Information on acceptable working conditions and sample nanny contracts can be obtained from the Professional Association of Nursery Nurses.
Accommodation
Nannies should always be provided with a private room to live in. This room should not be used for other purposes, such as a nursery or for storage, and it should have a door with a lock. If the family retains a copy of the key to this lock, this should be made known to the nanny. If the family expects to be able to "inspect" the room on a regular basis, this should be agreed upon with the nanny. There should be no reason that the nanny's room is invaded on a regular basis, nor should it be a common occurrence that the nanny is disturbed in his or her room when (s)he is off duty.
Food
Live in nannies should be provided with food. The cost of the food should not be taken out of his or her salary, (s)he should not need to give money for the food on a regular basis nor should cooking become a duty that (s)he has not agreed to. In effect, food is a perk of the nanny's job and not something for which (s)he should be paying.
Wages
Live in nannies often received an agreed upon salary rather than a strict per hour wage. Often this salary is broken down into weekly sums. On average, nannies in central London make the highest weekly amount (over £300), followed by nannies in other areas of London and the surrounding counties (approximately £280), followed by nannies in the rest of the country (approximately £260). These wages are for the agreed upon number of hours to be worked per week and the agreed upon responsibilities of the nanny. If extra hours or duties are agreed upon, a corresponding wage increase should be the result. Employers should pay tax and National Insurance for a nanny as needed and all nanny salaries must conform to national minimum wage standards.
Holidays
Live in nannies and their employers should agree upon both the nanny's holidays and if the nanny will be travelling with the family on their holidays. Generally nannies are entitled to four weeks paid holidays per year. These four weeks should correspond to an average working week for the nanny. Usually the employer dictates two weeks and the nanny is allowed to choose the other two weeks. If a nanny is to accompany a family on their holidays, this is not to be counted as a nanny's holidays as well. All travel expenses should be paid for a nanny travelling with the family, and her food should still be covered. Nannies and employers should be very clear to agree upon what is a nanny's responsibility during the family holiday before they travel.
Live in nannies are the minority in the United Kingdom, but a significant portion of the nanny work force still lives with families. The Professional Association of Nanny Nurses offers both nannies and employers more information on best practice and legal requirements for living with a family.
You might also like...