House Rules and Nannies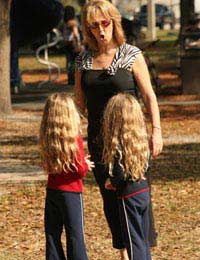 Nannies are childcare professionals and must be trusted to take good care of the children in their charge. However, parents are still parents and their household rules should always be respected. House rules for nannies should always be discussed before a nanny position is filled, and both nannies and parents should agree to any set of rules that is decided. If adjustments need to be made to this set, nannies and parents should again discuss the alterations and agree on the outcome. Only when every adult in the house understands and works within the agreed upon rules can household harmony flourish.
Childcare Rules
Regardless of who is looking after a child, the parent's rules regarding childcare must be followed. This particularly applies to issues of discipline, including how the parent feels about smacking, yelling and specific discipline techniques. Nannies who disagree with selected methods of discipline should voice their concerns before accepting a job. Nannies should not agree to methods and then ignore them as they see fit.
Play Rules
It is true that play is a relatively unstructured activity, but parental rules should be followed when possible. Rules regarding watching television and videos, playing on the computer or with electronic toys, and engaging in certain imaginary games (for example, playing "prison" with a younger sibling) were probably made for a reason so parents and nannies should discuss these rules. Again, if nannies do not agree with these rules then they should be discussed but not outright ignored.
Food Rules
A nanny should always follow a parent's food rules. If parents do not want their children to have fizzy drinks then nannies should not offer these beverages when parents are out of sight. If parents require their children to follow a particular way of eating, such as keeping kosher in a Jewish household, then a nanny should follow these wishes. However, if a nanny feels that a parent's food rules are somehow hurting a child then this topic must be discussed. Alternately, if a nanny notices a harmful eating habit of one of the children then this must be reported to parents as well.
Quiet Time
Quiet time can be a tough rule to follow simply because it will always depend upon the children's moods and energy levels. During the day quiet time can be encouraged, but children can not be forced to take a nap if they are not tired. However, quiet activities like reading or drawing can be conducted instead. Nannies also deserve breaks during the day and to be left uninterrupted during their off hours, so if they are not getting the quiet time they deserve then nannies should let their employers know what is happening and how the situation can be fixed.
Visitors
Nannies are responsible for caring for their employer's children but they are not necessarily responsible for caring for multiple extra friends or an entire child's birthday party. Nannies and parents must agree on house rules regarding visitors and this includes a nanny's private friends as well as friends of the children. Visiting hours in particular should be discussed, as well as rules for acceptable behaviour when in the family home.
Out in Public
Finally, nannies and parents should discuss expectations for when a nanny has the children out in public. Hand holding or using a harness, for example, are issues that will only come up in public. Disciplining children in public, eating out with children and how children are to be dressed for particular activities may also be discussed.
You might also like...